Motivational Maps, an Insightful Tool for Successful Recruiting
The labour market has rarely seemed as challenging as in this end-of-pandemic period.
Statistic Canada reported that in August 2022, 11.9% of permanent employees were planning to leave their jobs within the next 12 months. In the preceding 12 months, a record-high 307,000 Canadians retired, up from 233,000 a year earlier (Source).
All is not well at the other end of the demographic spectrum either. The phenomenon known as "quiet quitting" has younger employees feeling increasingly disconnected from expectations at work. This is marked by a rejection of "hustle" culture and a (not always overt) setting of job boundaries.
In the current world of work, where attracting and retaining quality candidates is a growing challenge, consider how valuable it would be to have access to a model and tools that:
enable you to gain insight into what motivates your top candidates and how to best integrate them in your team, and
provide a common language on motivation for increased alignment with team and organizational objectives.
Motivational Maps work by accelerating your self-knowledge and your knowledge of others on the team through a better understanding of what motivates each of you, and how these motivational energies can contribute to the team's cohesion and performance.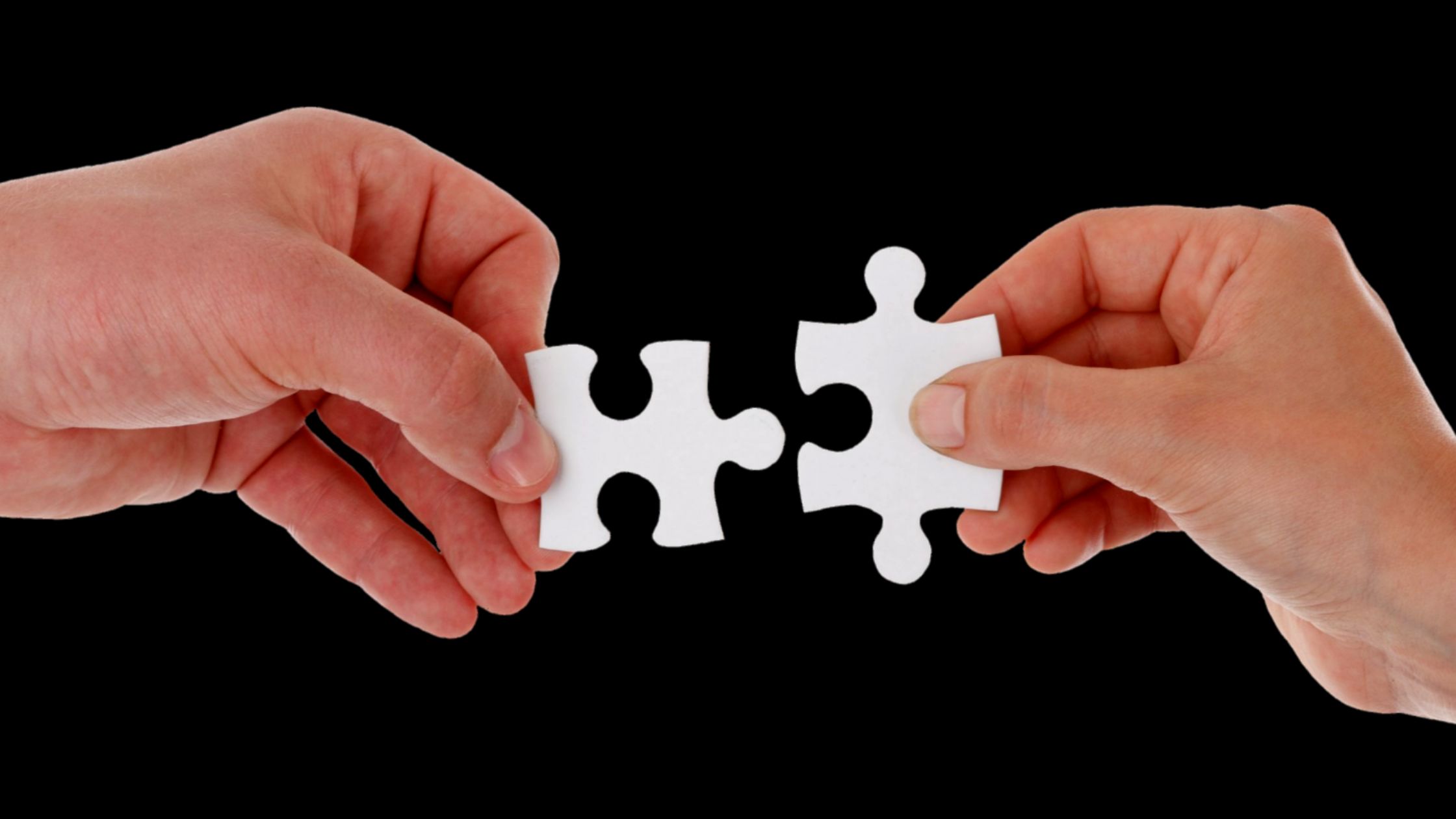 Let's look at how a leader in a mid-size not for profit, Catherine, used Motivational Maps for a key recruitment challenge. (This is inspired by a real-life case. Names and some situations have been changed).
Catherine and her leadership team of six had completed a Motivational Maps assessment for teams.
Team profiles include individual results from each team member and provide key information about the motivational energies underpinning the team's composition. The team's openness to change and potential for conflict can also be discerned.
In this instance, the result showed a team profile where the Growth cluster of motivations was strongest. Indeed, this was reflective of an organizational culture where professional development is encouraged and nurtured in formal and less formal ways. The Defender motivation, concerned with stability and security, was also showing up for most supervisors. This is an organization where risk assessment and stakeholder management are key activities.
Results also revealed that the Director motivation, where the person is motivated by influencing decisions and being responsible for human and financial resources, was present as a motivator for Catherine but not for other members of the leadership team. Recruiting a Chief Financial Officer, a position newly created in response to the organization's growth in the last three years, was an opportunity to seek some role-appropriate Director energy in the leadership team.
Using Maps as Part of the Recruitment Process
At the beginning of the recruitment process, the Motivational Maps certified practitioner and coach working with Catherine explained that the instrument provides data complementary to the information gathered as part of a typical recruitment process and is never meant to be the sole source of information for decision-making. She also pointed out how versatile the tool is in the context of recruiting a new member of the leadership team. Let's see how they proceeded.
First, when writing the job advertisement with her human resources colleague, Catherine took inspiration from the Director motivation description to highlight some of the sought-after qualities for the Chief Finance Officer role, including a strong sense of responsibility and the ability to mobilize human and financial resources towards organizational goals.
Catherine decided to request Motivational Maps profiles only from short-listed candidates for CFO. The process was outlined from the outset to each of the two candidates invited to an interview. Both individuals were given access to the motivational profiles generated by the Map questionnaire.
Reviewing Results
Motivational Maps provide a profile of a person's top motivations in order of importance, as well as the level to which the person is satisfied or fulfilled in those motivations (for an introduction to the Motivational Maps, click here).
The certified Motivational Maps practitioner prepared a report with the two short-listed candidates' results, including how these aligned within the team motivational profile.
Prior to reviewing the results with the Maps practitioner, panel members had agreed that on the balance of experience, performance in the interview and references, candidate # 1, Chris, was ahead. Candidate # 2, Dominic, did not show the breath of judgement, experience and strategic sense they were looking for in the role.
Interestingly, both candidates had the same top three motivators. The presence of Defender and Searcher energies blended well with motivations already present in the team. Director motivation was also present in both candidates' profiles.
The table below outlines the candidates' top three motivators with descriptions of what a person with these motivators needs and values. (While all motivators play a role in a person's profile, it is generally important for the top three to be satisfied for a person to feel fulfilled and successful.)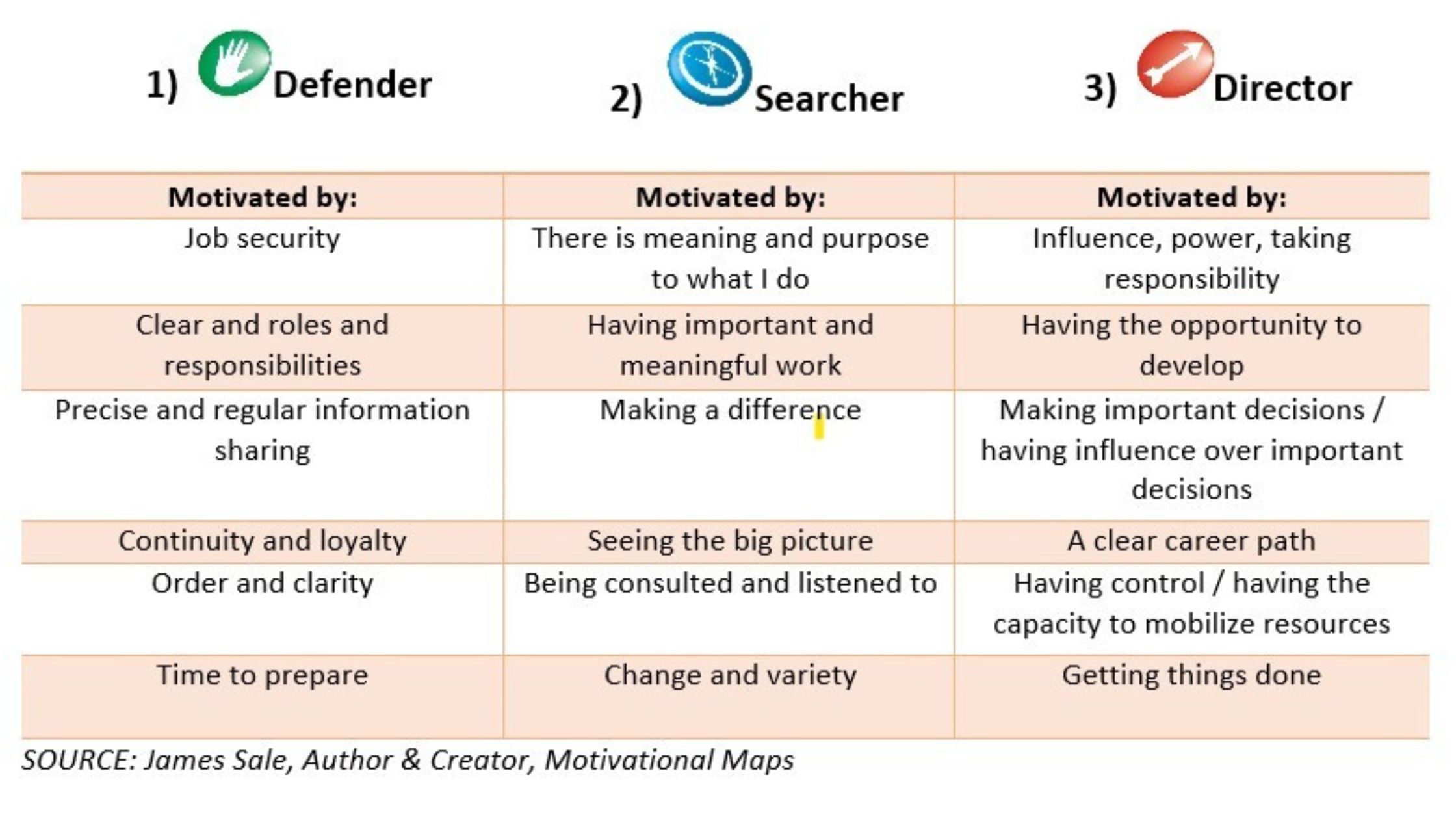 Besides the similar profiles, both individuals were well motivated in their current roles, as revealed by their satisfaction scores.
However, the motivational scores revealed significant differences between the two. Dominic presented a very high score, sometimes called a spike in his Defender motivation. The spike indicates that this individual is very motivated by this dimension. In reviewing what motivates someone with Defender energy, one can see that these elements would be consistent with someone working with numbers and concerned with the financial health of an organization. The practitioner explained the spike could also show up as resistance and discomfort with change in some contexts. This could present some challenges for a leadership team and a CEO with a strong growth focus, both in approach to change and communication styles.
Chris's profile, with the same top motivators but different motivation scores, pointed to a person who would draw on various motivational energies and rely less on the Defender energy.
In the end, while the decision on the successful candidate was close to being made at the time of their review, the motivational profiles validated some of what the panelists had seen during the interview process and provided additional insights about the candidates themselves.
The usefulness of the Maps did not end there. In having arranged for a Motivational Maps profile, Catherine now had a precious tool to begin conversations with the chosen candidate and for onboarding. So, how else might the profiles be helpful at this juncture?
Salary and Working Conditions
Catherine knew that her salary offer was below market value for this type of position. However, she had a few cards up her sleeve to make her pitch. She could appeal to the sense of purpose of Chris's Searcher motivation by highlighting the essential work her organization did in the community. She knew that with Expert as one of his higher motivators, Chris could be interested in an offer of support for professional development. The Director motivation in his profile suggested that Chris would be attracted by the opportunity, as the first CFO in this organization, to influence the implementation of strong accounting and financial structures and to lead a small team of his own.
Using those insights, Catherine wove those considerations into her initial offer to Chris. He accepted!
In our next article in this series, we'll see how the Maps were helpful in onboarding Catherine's new hire and how a thoughtful approach to onboarding is crucial for organizations in the current labour context.
Marie-France Lefort is a certified Motivational Map practitioner, coach and group facilitator based in Hamilton. You can reach Marie-France at mariefrance@mariefrancelefort.com
Suzanne Drouin is a Certified Integral Master Coach, ICF Certified, and Motivational Map Practitioner based in Ottawa. You can reach Suzanne at suzdrouin.coaching@gmail.com